"How does working with a Recruiting Agency work?"
Executrade is a professional placement firm that knows you expect high quality and high quantity, as quickly as possible. We endeavor to deliver on this expectation.
We are invested in your company's success and have set up a process to enable this.
We determine your needs first
Our recruitment process starts by understanding what you need first - before searching our broad database and casting a wide net over the marketplace for viable options.
We have the expertise to screen potential candidates and will recommend the best fit for the role you hope to fill.
We have the right network of candidates
With 47 years in the market, Executrade is proud to have built a vast network of relationships and broad pool of strong talent. Our resume pool consists of 50,000+ potential candidates, both passively and actively seeking new employment.
However, our candidate pool is only the beginning of what sets Executrade apart from other employment agencies when finding the perfect person to fill your permanent, contract, or temporary position.
We partner with you
Once candidates have been presented and you are ready to move forward, we then broker the whole process, keeping your specific needs and wants in mind.
Interview set ups and questions 
Skill and personality testing 
Reference and background checks 
We don't stop searching
Until we find the right professional for your team and company needs our team will be hard at work. 
After all, our Core Purpose and Values hinge on exceeding your expectations, and helping you achieve your vision.
Permanent & Contract
The standard and thorough processes within our experienced recruitment firm helps to ensure our team finds the best search and placement options for our clients. From determining our clients' expectations and conducting candidate interviews, all the way to presenting an offer to a prospective employee, we have mapped out the steps to simplify what could potentially be a very complicated process.
Executrade's staffing agency has a comprehensive 10-step process for recruiting and placing individuals into our clients' organizations. We want our clients to get everything they want. That's why we customize each process to meet the needs of every client looking for permanent employees or contract workers. It's a thorough procedure that allows your organization to Search Less, and Get More.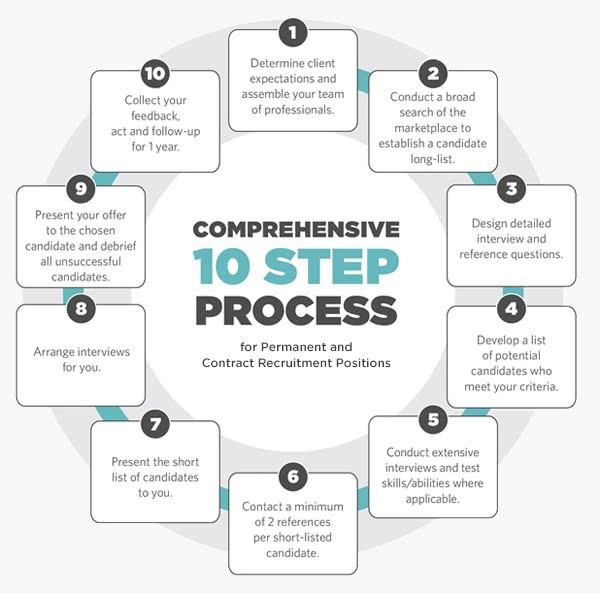 We reserve the right to amend the 10-step process at our discretion. Please consult with your Recruitment Consultant, as a client's needs don't always require the entire 10-step process.
Temporary Staffing
In order to respond quickly and effectively to a client's request for temporary assistance, Executrade keeps an extensive pool of talented and experienced professionals who are available for temporary work. These applicants have already been interviewed, evaluated, and references checked, so they are ready when needed.
Similar purpose to our 10-Step comprehensive process, Executrade has a 6-Step process that will provide a start-to-finish plan for clients needing to fill temp positions, rather than full-time ones. The deadline to find a successful candidate in these cases also tends to be more immediate and urgent, therefore our procedures still fully explore our clients' needs, the culture of the organization, and the candidates applying, but in a more expeditious way.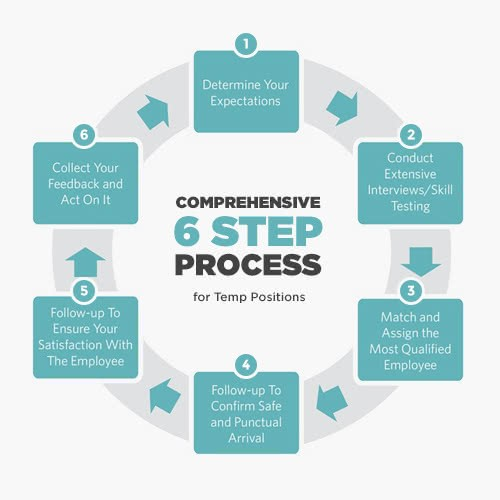 We reserve the right to amend the 6-step process at our discretion. Please consult with your Recruitment Consultant, as a client's needs don't always require the entire 6-step process.